SARA – Southern Arizona Rescue Association  

 Follow SARA on Facebook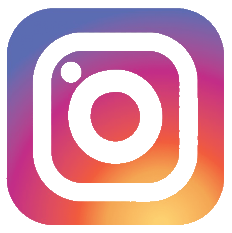 Follow SARA on Instagram
SARA LinkTree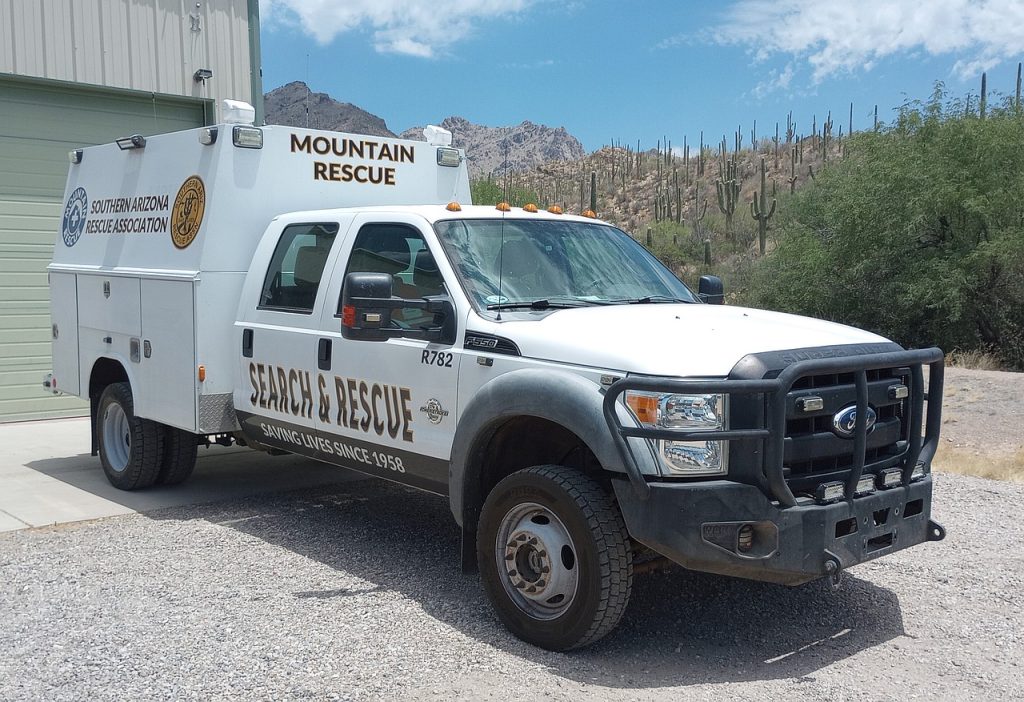 SARA is a non-profit, all-volunteer search and rescue organization serving southern Arizona and Pima County since 1958 without charge for its services. SARA members are volunteers from all walks of life, donating their time, skills and enthusiasm to provide a vital service to the public.
SARA members receive extensive training in all aspects of search and rescue work including wilderness searching, cave rescues, high-angle and technical rescues, swift water rescues, mine rescues, and outdoor safety education. Members are also required to regularly re-certify both their medical qualifications and technical skills.
SARA typically responds to more than 100 search and rescue missions each year, representing more than 4,400 hours of volunteer time at no expense to taxpayers. Whether the mission is a technical cliff rescue or a multi-day search, day or night, whatever the weather, SARA members are on call. Members provide their own personal equipment; however, group assets such as SARA vehicles, radios, ropes and technical equipment are paid for by individual and corporation donations, as well as public funding.
SARA membership is open to anyone interested in helping to enhance public outdoor safety in southern Arizona. Field qualified members must be in good physical condition, attend and pass first aid and rescue training classes and provide their personal outdoor clothing and gear. All new members must complete medical/first aid training and SARA Basic search and rescue training prior to becoming field qualified. Complete training and medical certification can take up to ten months to complete.
---
Enjoy this SARA 2017 video created by SARA member Sean Fawcett.

---
For more information on how to join SARA, including information about upcoming candidate recruitment events, please visit the Join Us page on this website or check out the current issue of the SARNews newsletter. You are also welcome to contact us by email at SARAjoin@sarci.org and you can follow SARA on Facebook to stay up-to-date on all of our events.
You can also learn more about SARA by attending one of our monthly meetings held at 7:30 pm on the first Friday of each month at the SARA House in Tucson, (click here for a Google map). Each meeting provides the opportunity to meet current SARA members, learn more about the organization, and get up-to-the-minute information on the annual prospective candidate application process.
SARA also provides free public education presentations to both adult and child audiences upon request. SARA members are trained in the nationally acclaimed Hug-A-Tree system for teaching young children the essentials of outdoor safety and survival. Other programs are available for scouting groups, hiking clubs, parents groups, hunters and off-road enthusiasts.
To request a SARA safety presentation anywhere in southern Arizona, please email sarci@sarci.org with your group contact person's name and telephone number, and a SARA member will contact you.
---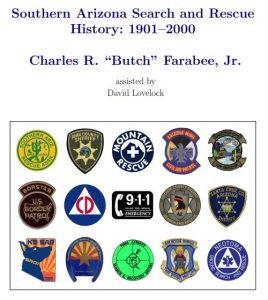 Butch Farabee and David Lovelock have written a book about the history of rescue in Southern Arizona.  The book is free and available here.  This book contains lots of SARA history.
It contains over 1000 SAR incidents that occurred in Southern Arizona between 1901 and 2000, and is divided into three parts.
Read about the book's release on Tucson.com.
---
Media inquiries can be emailed to the SARA Public Information Officer at SARA-PIO@sarci.org or you can contact us by telephone at (520) 477-1022. Please leave a voicemail and we will return your call.

Thank you for your interest in Southern Arizona Rescue Association.
---
Enjoy this collection of SARA photos.
Click on any thumbnail to view the full size image.